ReVision Arts
Welcome to the future home of ReVision Arts.
In 2019 Mount Baker Neighborhood Center for the Arts (MBNCA)'s board, along with our Seattle University intern, several of our artists, and founder Barbara Oswald spent nine months rebranding our non-profit. At our 2018 annual fundraiser, Art in the Dark, we renewed our commitment and announced our new name. Our registered 501(c)3 Federal non-profit is titled South End Seattle Arts Center, and we are doing business as ReVision Arts. We remain an inclusive art-education organization in South Seattle.
Our mission is Art for ALL!, with a focus on artists with all types of disabling conditions and others who consider themselves underrepresented.
High Tea Annual Fundraiser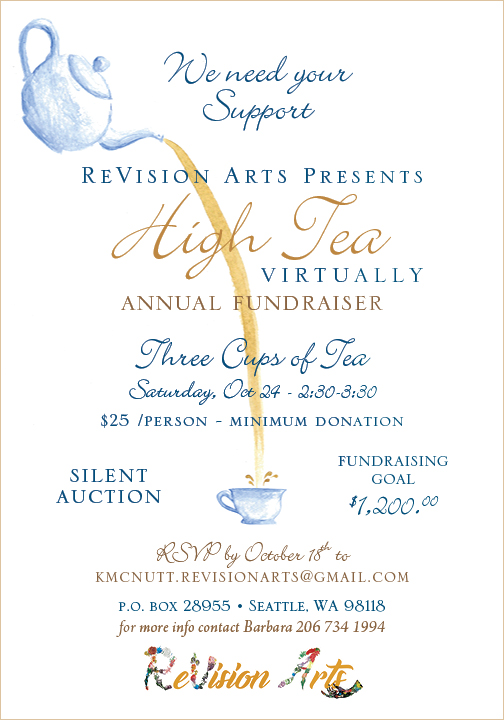 ReVision Arts is delighted to invite all supporters to our 2nd annual Tea Party fundraiser! Last year it was offered to a limited number of patrons, but this year it is available to every one of you, whether in Peru, Denmark, Japan, the USA, or any orher country! A true cross cultural Zoom experience!
At last year's High Tea Jacqueline Ware suggested we have culturally competent tea parties. Taking her suggestion, this year our Board Member Michelle Ishimitsu will be discussing the Japanese tea ceremony, and Board Member Kathy McNutt will be sharing a bit about Twinning's tea.
This year's "tea party" will last approximately an hour, and as long as we have your mailing address we will send you a packet with different teas to enjoy with us. Get out three favorite cups, have your hot water ready, and join us on a Zoom call to raise awareness about ReVision Arts!
There will also be a silent auction, with the goal of raising $1,200 to support the organization's mission.
Saturday, October 24, 2:30 – 3:30 p.m.
$25/person minimum donation
RSVP by October 18th to kmcnutt.revisionarts@gmail.com or mail P.O. Box 28955, Seattle, WA 98118.
For more information contact Barbara at 206-734-1994.
We hope you can join us!
Touching Moments: Art from the Heart
ReVision Arts, an inclusive art-education organization in South Seattle, invites you to experience Touching Moments: Art from the Heart, presented both online now and at A/NT Gallery in the Seattle Center from November 1st through 28th.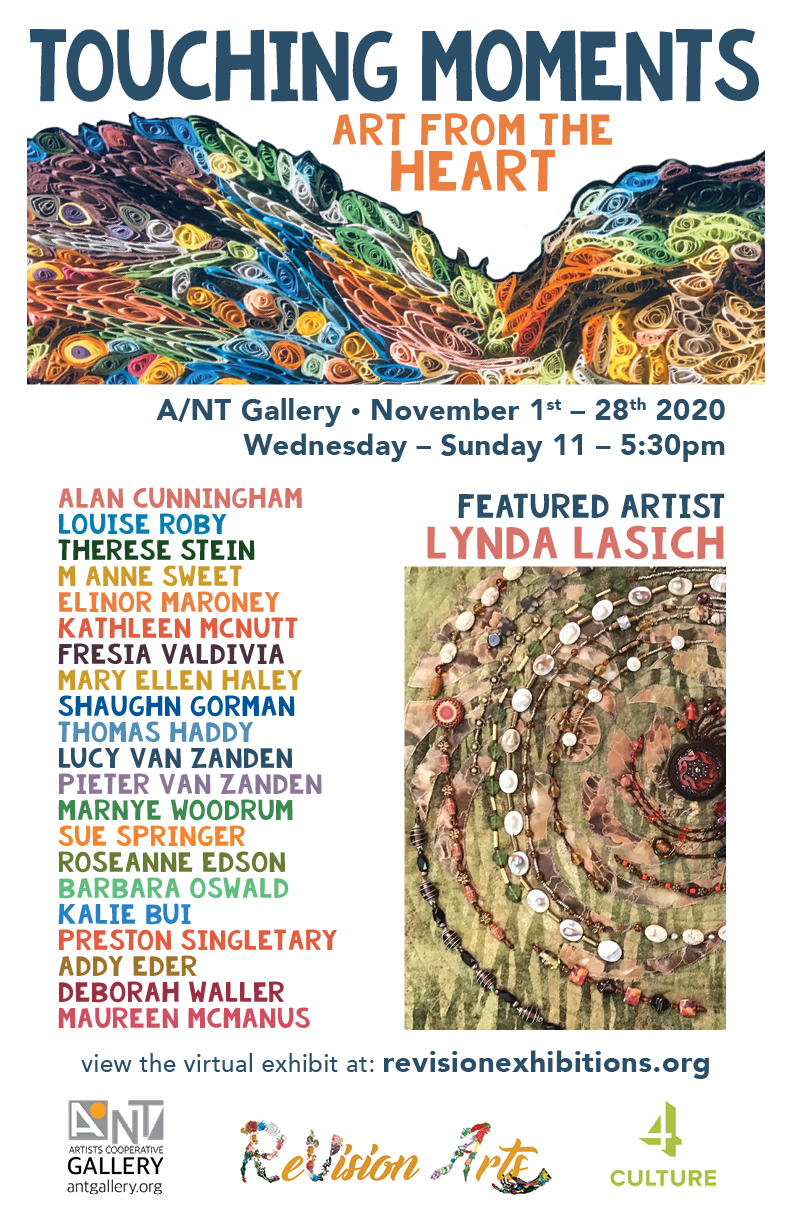 For the first time, our Annual Art Exhibition asked the artists to consider a Multi-Sensory exploration of Touch, Motion and/or Sound.
The virtual show is available now, at https://www.revisionexhibitions.org. This site will be the permanent home for this and future virtual exhibitions, making them available in perpetuity.
To help make the virtual show accessible to a wide range of visitors, each work is explored in a YouTube video that includes closed captions, as well as audio descriptions for those who have difficulty seeing the images.
To experience the virtual exhibition, visit:
https://www.revisionexhibitions.org
The physical show will be held at A/NT Gallery at the Seattle Center International Fountain Pavilion, running November 1st through 28th, 2020. COVID-19 protocols will be in place for the safety of both visitors and gallery members.
A/NT Gallery
Seattle Center International Fountain Pavilion
November 1st–28th, 2020
Wednesday–Sunday 11 a.m.–5:30 p.m.
Artists include:
Featured Artist Lynda Lasich
Alan Cunningham
Louise Roby
Therese Stein
M. Anne Sweet
Elinor Maroney
Kathleen McNutt
Fresia Valdivia
Mary Ellen Haley
Shaughn Gorman
Thomas Haddy
Lucy Van Zanden
Pieter Van Zanden
Marnye Woodrum
Sue Springer
Roseanne Edson
Barbara Oswald
Kalie Bui
Preston Singletary
Addy Eder
Deborah Waller
Maureen McManus
Touching Moments: Art from the Heart is sponsored by ReVision Arts, A/NT Gallery, and 4Culture.
Donations
You can make a one-time donation or set up automatic monthly payments using the following link:
Your support is deeply appreciated!
Contact
Phone: 206-734-1994 (Phone is preferred over email)
Email: boswald.revisionarts@gmail.com