ReVision Arts
Welcome to the future home of ReVision Arts.
In 2019 Mount Baker Neighborhood Center for the Arts (MBNCA)'s board, along with our Seattle University intern, several of our artists, and founder Barbara Oswald spent nine months rebranding our non-profit. At our 2018 annual fundraiser, Art in the Dark, we renewed our commitment and announced our new name. Our registered 501(c)3 Federal non-profit is titled South End Seattle Arts Center, and we are doing business as ReVision Arts. We remain an inclusive art-education organization in South Seattle.
Our mission is Art for ALL!, with a focus on artists with all types of disabling conditions and others who consider themselves underrepresented.
High Tea Virtual Annual Fundraiser
Update! The list of items available in the upcoming Silent Auction is now available at: https://mailchi.mp/f934fa16ddcb/support-revision-arts-through-our-silent-auction. All donations will fund our 2022 Please Touch Exhibit, our tactile show at A/NT gallery.
Three Cups of Tea
Saturday, November 13th, 2021
2:30–4:00
$25/person minimum donation
There will be a Silent Auction with the goal of raising $4,000 to support the organization for the next year.
The deadline for registration was November 6th to kmcnutt.revisionarts@gmail.com
Pay online using the Donate button at the bottom of the page,
or send a check to P.O. Box 28955, Seattle, WA 98118.
For more information text or phone Barbara at 206-734-1994.
Please Touch: Hope Rising
A Tactile Art exhibition curated by Barbara Oswald
August 3rd–27th, 2021
A/NT Gallery, Seattle Center
Tue–Sun, 11 am – 6 pm
Artist Reception: Thursday, August 5th, 3–7 pm
Opening Reception: Saturday, August 7th, 5–9 pm
Featured Artist: Jim Stevens
Tactile artists:
Alan Cunningham
Zan Edson
Karen Gjelsteen
Elinor Maroney
Maureen McManus
Kathy McNutt
Doriane Nieburgs
Barbara Oswald
Louise Roby
Sue Springer
Therese Stein
Nancy Stokley
Jan Tervonen
Fresia Valdivia Galvez
Lucy VanZanden
Pieter VanZanden
Debbie Waller
Patron Sponsors
Madrona Grocery Outlet – Steven Mullen
Barbara Guzzo & Paul Purcell
Kathryn Kurtz & Shaughn Gorman
Kathy McNutt
Partner Sponsors
New Roots Organics – Carolyn Boyle
Compass Real Estate – Fionnuala O'Sullivan
Joshua Dooley & April Mills
Libby Clark & Joe Weller
Mary Ellen Haley
Knoll Lowney
Liz O'Connell
Friend Sponsors
Maureen & John Reid
Karen Matthews
Geri Johnson
Judith Desmarais
Therese Oswald
Daniel Kaufman
Kathy and John Morefield
Albert Angel
Anissa Olson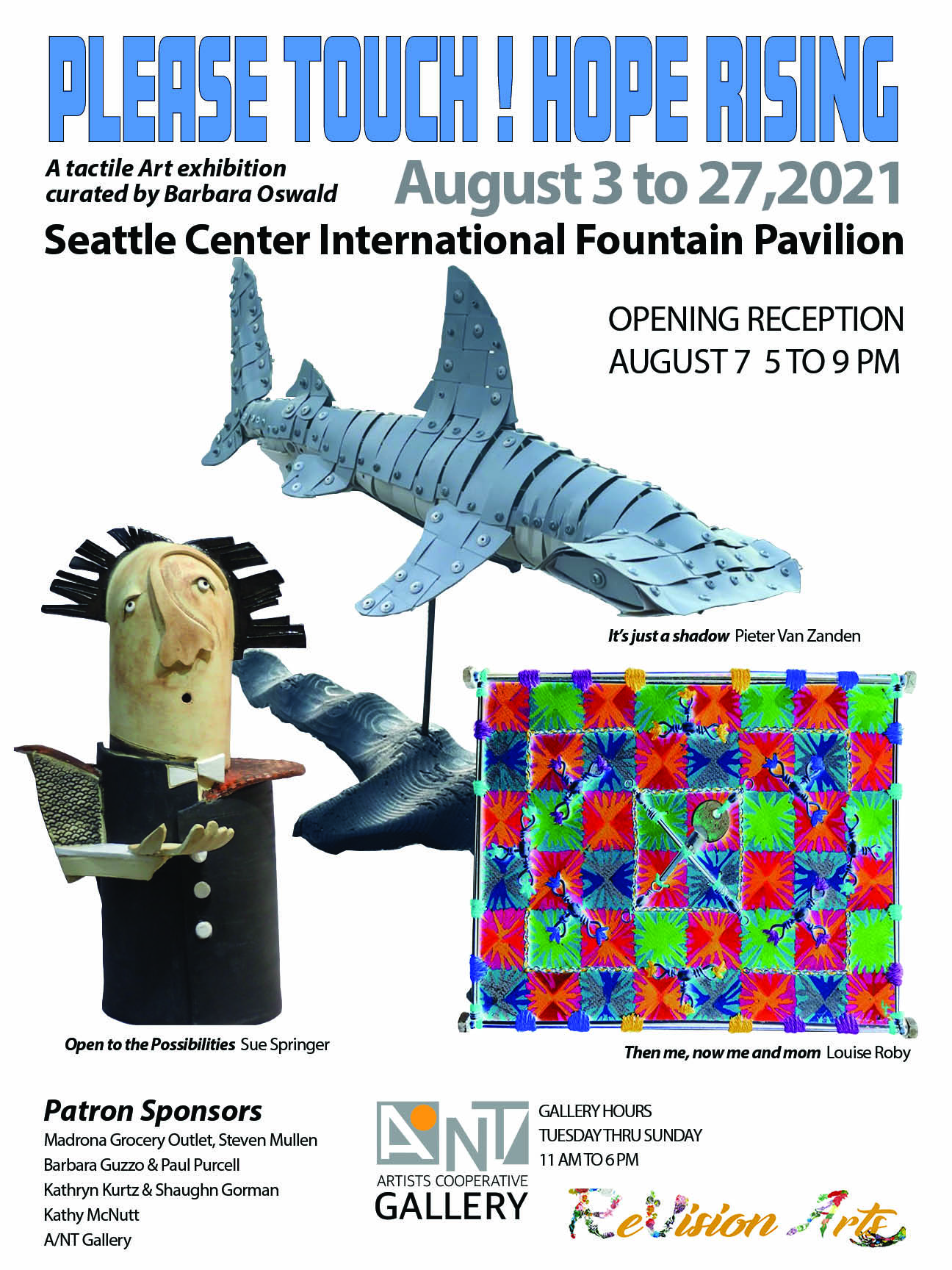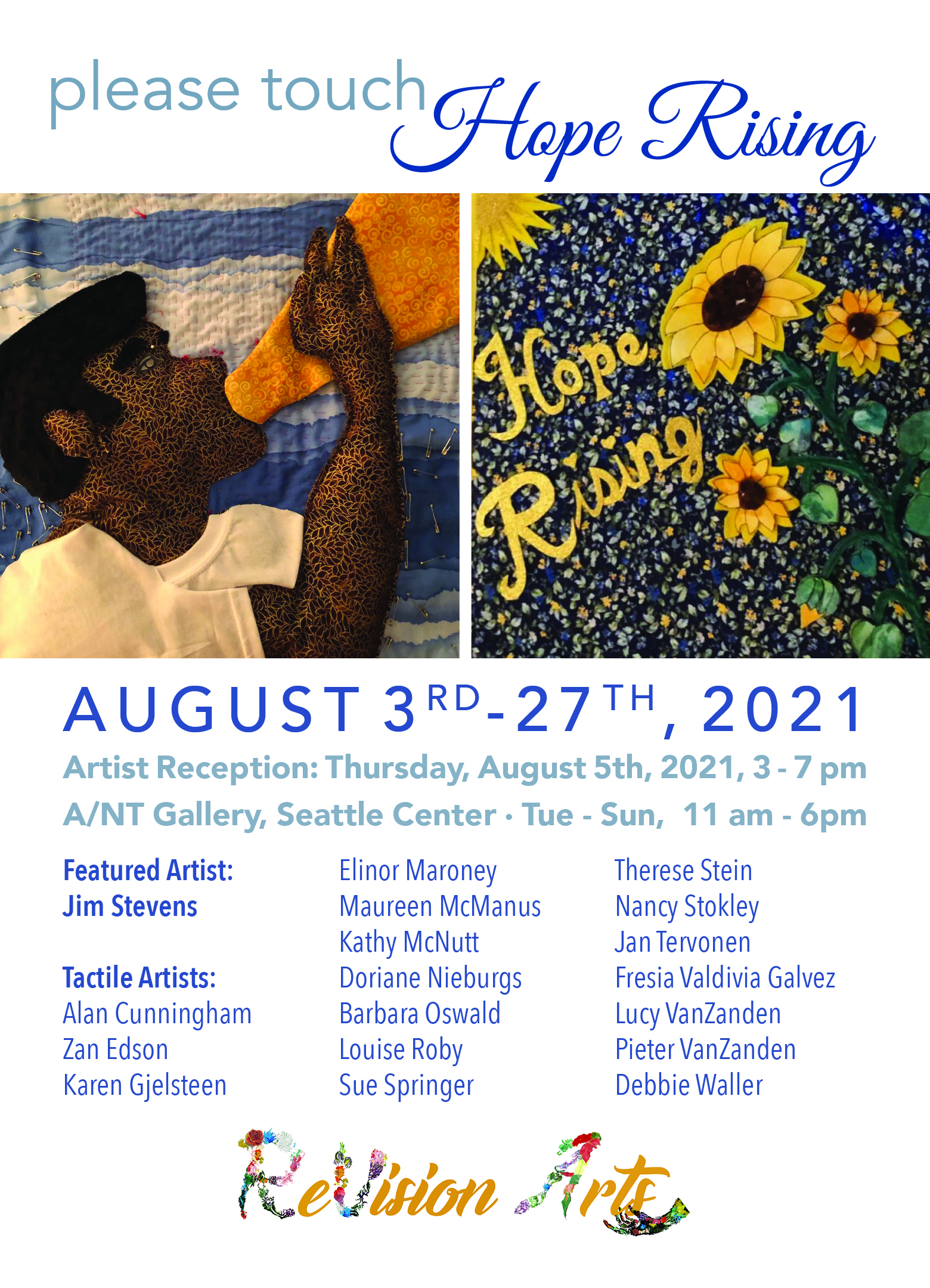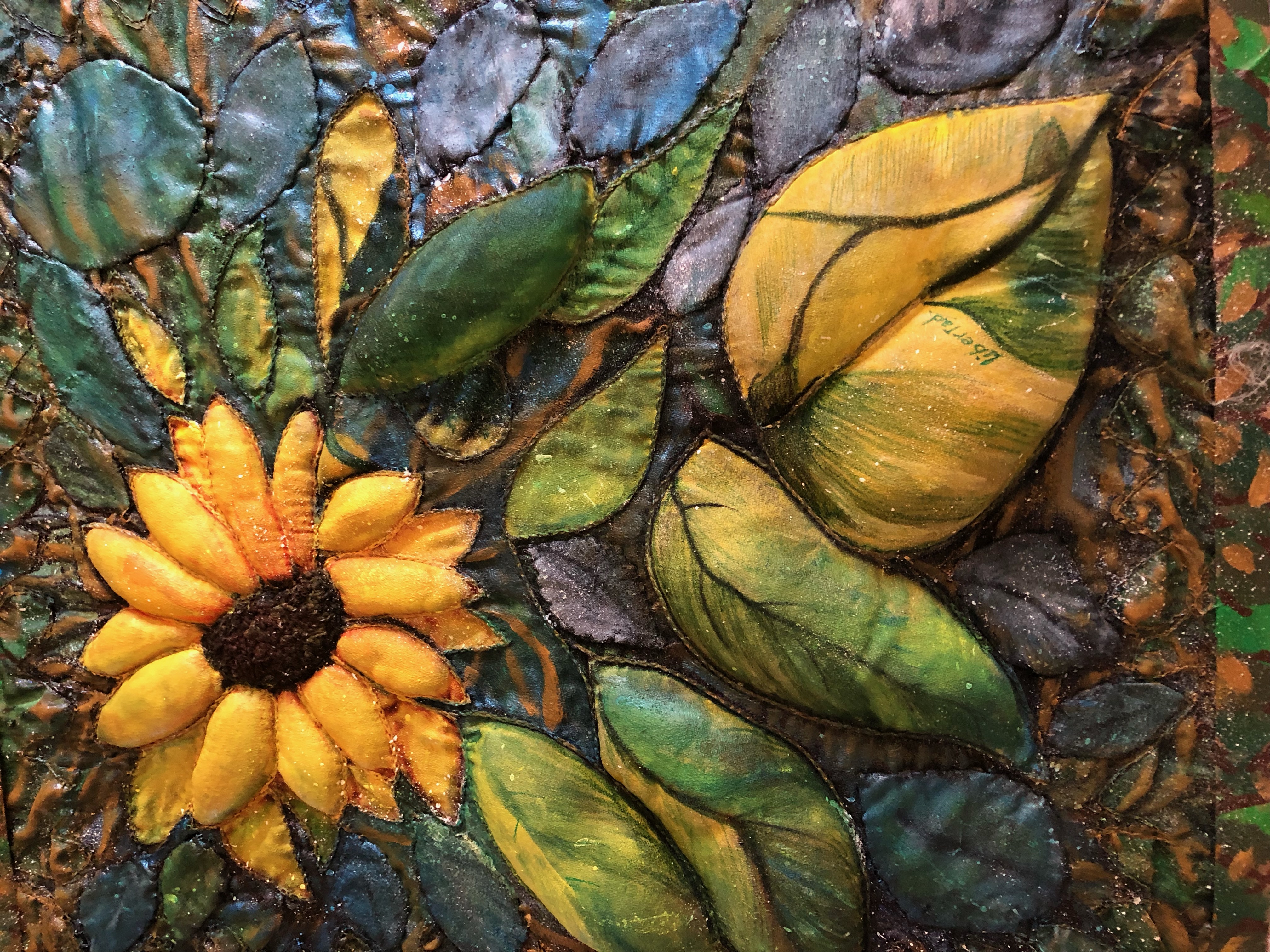 "Hope Rising" by Fresia Valdivia Galvez
Featured Artist Jim Stevens
Jim Stevens is an award winning international artist and author who is also legally blind, with only a pin dot of vision remaining in both eyes. He lost his sight as a result of combat wounds while serving in the U.S. Army. His loss of vision forced the artist to rethink his approach to the art he loves. Today he uses a combination of visual lenses along with his sense of touch to complete each of his extraordinary paintings, scrimshaw etchings and custom works of art. Jim has defied the odds but in his own words, "A man with a vision is never truly blind."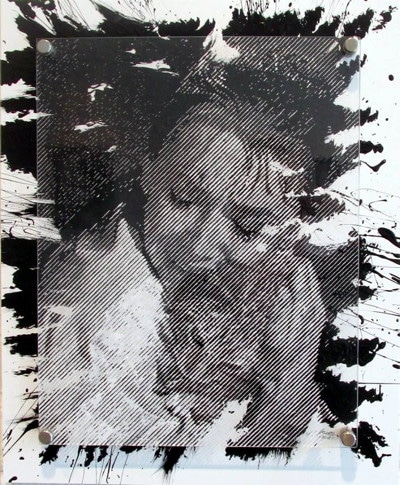 "Golightly and Cat", an abstract linear painting by Jim Stevens
Why I make Tactile Art — Doriane Nieburgs
I love the feel of felted wool and the pieces I make are meant to be picked up and held in your hands. There are so many different textures in each piece with all the elements that go into them. The entire experience of making each vessel is a tactile experience for me and that gets transferred to whoever holds the finished piece. It is an amazing moment for me when I see someone cradle the vessel in their hands and connect with the piece on many sensory levels.
I was born and raised in New York City. I obtained my undergraduate degree in Art (ceramics and printmaking) from The University of Wisconsin, in Madison. I lived in Wisconsin for five years until moving to Seattle where I have been, now, for most of my life. I balance my life as a psychotherapist working with my art. My felted wool vessels are part basketry, part sculptural, and similar in many ways to ceramic pots or bowls. The materials I use in the vessels are wool, silk, waxed linen, natural plants, feathers, reed, pine needles, glass beads, and anything else I find that I can incorporate into the work. They range in size from 4 inches tall and 5 inches wide to 6 inches tall and 7 inches wide and are strong enough to be used as bowls or baskets. I am inspired by things in Nature, poetry and other literary forms, and people.
Donations
You can make a one-time donation or set up automatic monthly payments using the following link:
Your support is deeply appreciated!
Contact
Text or phone is preferred over email.
Text: 206-734-1994
Phone: 206-734-1994
Email: boswald.revisionarts@gmail.com